QTAmateur for MacOS X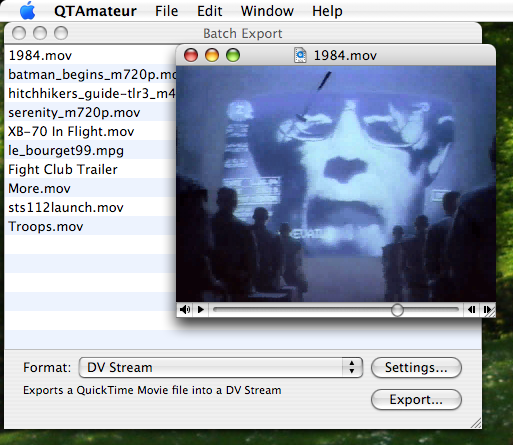 News: QTAmateur 1.0.1 (released March 9th, 2006) brings minor bug fixes and a Universal binary.
QTAmateur is a small, simple QuickTime video player. It can play any format that QuickTime can understand, handle fullscreen video playback, and export files to any format that QuickTime can write.
QTAmateur includes a Batch Export function which can convert any number of movies at a time to another format. Simply drag the desired movies into the window, choose the desired format, configure the output, and let QTAmateur take care of the rest.
Sorry, QTAmateur can't export Protected AAC files purchased from the iTunes Music store.
Best of all, QTAmateur is completely free.
QTAmateur requires QuickTime 7 and Mac OS X 10.3.9 (Panther) or later.
Download QTAmateur for Mac OS X (77kB)
QTAmateur is written by Michael Ash. Thanks are due to Apple for making QTKit so powerful and cool.